Barrier Block
CAPE is home to the largest known barrier block in the world, so we can crash test the biggest vehicles. Commercial trucks, fire apparatus, school buses, motor coaches, even train bumpers have smashed against our 2.2 million pound block.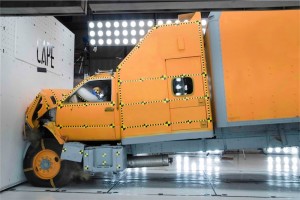 Barrier crash tests are used to evaluate and improve crashworthiness of the entire occupant environment. Customers use CAPE to conduct testing for product development, validation to FMVSS standards, and product liability defense.
Big or small, our barrier block is strong enough to take on whatever you want to crash into it. It's one more reason why manufacturers from around the world choose CAPE for their testing needs.
See for yourself.
FEATURES:
Largest known barrier in the world at 2.2 million pounds
Test track is 800 feet long
Frontal, oblique, offset, side, trailer under-ride, and vehicle-to-vehicle crashes
Crashes vehicles weighing up to 80,000 pounds
Crash speed up to 65 mph
Cab preservation testing to SAE J2422 and J2420