Instron/Material Testing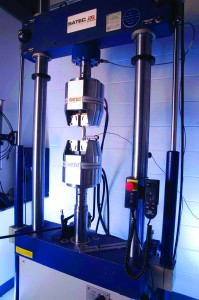 Our clients often conduct mechanical testing at CAPE to analyze the strength, durability, and environmental resistance of their products.
CAPE engineers have experience and specialized equipment to help customers define material properties of fabrics, foams, plastics, composites and metals throughout the linear-elastic and non-linear domains.  Materials can be thoroughly tested at CAPE, enabling analysis engineers to define a wide range of material properties in numerical simulation models.
FEATURES:
Supports FEA work and confirms material properties
System is capable of testing materials with loads up to 30,000 pounds, a stroke of 6 inches, and a maximum specimen size of 46 inches
Maximum test speed of 6 inches per second.